Today we are talking about my absolute favorite trending wedding colors for 20. So let's jump in.
Instead of focusing on your wedding colors. First I always suggest focusing on your feel or your style. Most of you already have a personal style and can kind of pull on that to determine your wedding style as well. So focus on how you want your guests to feel when they walk into your wedding instead of focusing on one color. The colors will come to you. So this article is for all of you couples out there looking to incorporate some color into your wedding. Let's start with the biggest color trend I am seeing for 2021.
#1 Dusty Blue 
So with pantone's 2020 color of the year being classic blue. We've seen a huge uptick in blue being used in event design. Now like some of the years past, we're seeing everything in a more muted or what we like to call a dusty tone, which basically just means it's a less pigmented version of the color. Also incorporating a color like dusty blue would be so nice for your something old something new something borrowed something blue. I just love this color incorporating to weddings, specifically weddings that i think would have normally been mostly white. Because i think the blue adds like a subtle anchor to the design it adds some weight to it while keeping it still light and airy. There are also so many gorgeous floral that can use this color, specifically hydrangeas.You can use this color with navy beige and muted golds for a very very beautiful sophisticated vibe. This color would work best for traditional modern or beachy themed weddings. I think this color could work beautifully in your wedding party attire as well as floral and linen.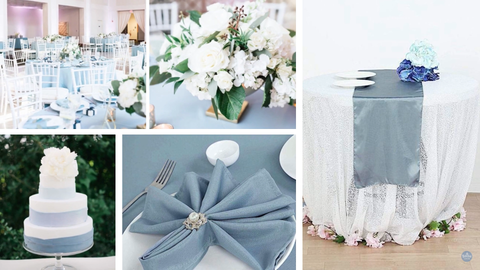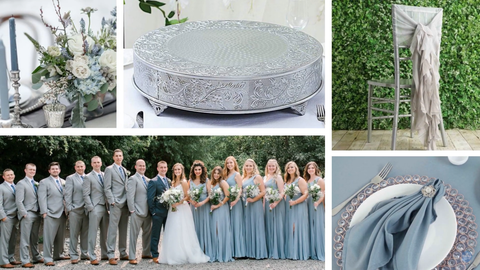 #2 Sage
Now if you've been paying attention to wedding trends at all you know that sage is becoming more and more popular and i think it's going to hit its peak in 2021.
Sage is so wonderful because it's a nice earthy tone again we're looking at a nice muted or dusty color. So it doesn't feel super pigmented against a traditionally white wedding. I think it also incorporates really well into the greenery and white theme that we've been seeing going on for like the past few years. I think that adding sage to this style of wedding would be a really great way to bring the design full circle. This color works best as a bridesmaid dress. You could also use it for napkins and naturally it'll come out through your floral especially for using greenery like silver dollar eucalyptus. When you are looking for a sage make sure that it is more on the gray side of green instead of on the yellowy side of green specifically in bridesmaid dresses. They can come out more lime looking instead of that like silver eucalyptus looking color. This color would work perfectly with boho, garden or rustic weddings. Not saying it you couldn't use it in other styles but these are the styles that it really works seamlessly.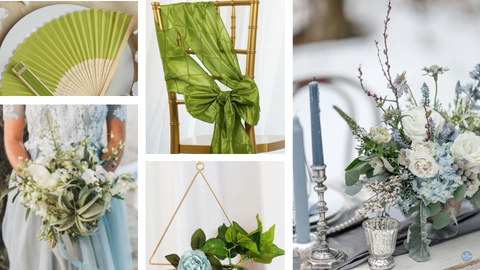 #3 Lavender
Lavender is on its way in again. This time though again we're going for that muted shade of lavender. Almost somewhere between lavender and lilac. We're seeing tons of pastels trending in 2021 and I think that lavender is like a nice unexpected color to see at a wedding. If you want to incorporate lavender in your wedding. I would avoid using it for your bridesmaid gowns and linen. The only reason why i say this is because typically purple linen either in a tire or on a tabletop can tend to look childlike. Try to incorporate this color into your actual floral like center pieces, bouquets and your ceremony design. Lavender would be absolutely perfect here. There are so many gorgeous florals that have this kind of purple hue to them specifically lavender. And they can really add some gorgeous texture to your floral as well. Lavender would work best for garden traditional or whimsical weddings.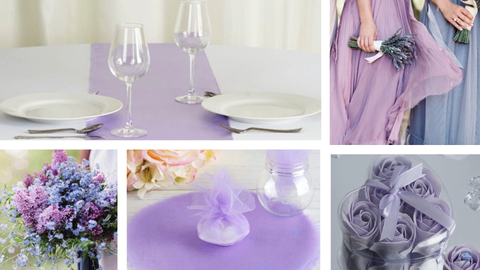 #4 Rust
Rust has to be one of my absolute favorite colors that we see coming into trend in 2021. I love a darker moodier color at a wedding. I know it's not everyone's cup of tea but for me it's like heaven. So I absolutely love that like this rusty copper tone is coming into trend. Rust is a perfect color for any late summer or fall weddings. It is best used for bridesmaids attire, tablecloth or table linen as well as signage. We're seeing rust come out in lots of terracotta vibes. There's lots of like desert vibes that are trending right now and rust is a huge aspect of those designs. I just absolutely love rust colored bridesmaid gowns specifically if they're in more of a texture like a velvet or a satin. I think that those are also going to continue to be very very trendy in 2021 specifically satin velvet's been very popular in years past. This color works best with vintage, boho or rustic weddings. So rest in a traditional ballroom may not look its best but rust in like a warehouse is like heaven.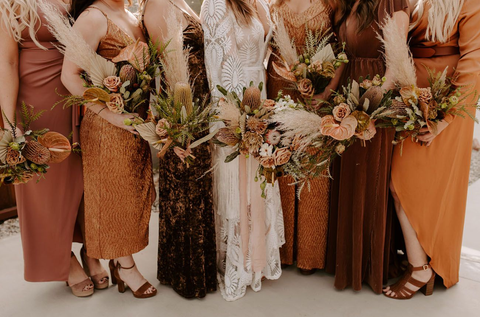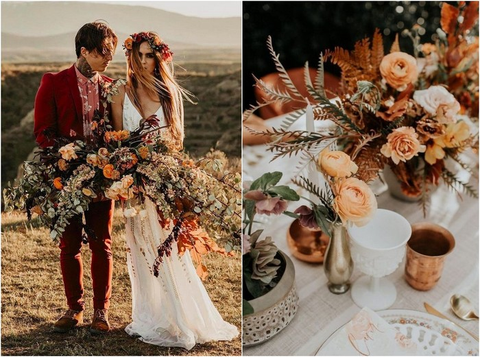 #5 Beige
Our fifth trending color is beige. Who would have thunk beige as a trending wedding color. There is something so elegant and timeless about a monochromatic look for a wedding. Incorporating beige into your attire, your linen and your decor can be an absolute game changer. Especially if you're dealing with a very stark white, having a beige nearby or layered on top of that white just creates this beautiful pop without having to use bright color. It makes the white look more white and the beige look more beige. And if you're worried about putting your bridesmaids in beige because you think it might be too close to your wedding dress color. Do not worry. Having a white dress in a center of beige will make you shine even more than if they were in like a completely different color. Something about it just makes your eye go immediately to the stark white. I would suggest however if you are doing beige for your bridesmaid dresses, go with a white. On white dress do not go ivory do not go cream do not go champagne go stark white. This will make a huge difference. I love a beige tablecloth with stark white china on top of it. I love beige dried or bleached floral incorporated into a bouquet. Especially like pompous grass or bleached palms i think look really beautiful and elegant. It's just an absolutely lovely and delicious way to add some texture and some color to your wedding without being so bold. This color works best for boho, modern or beachy style weddings.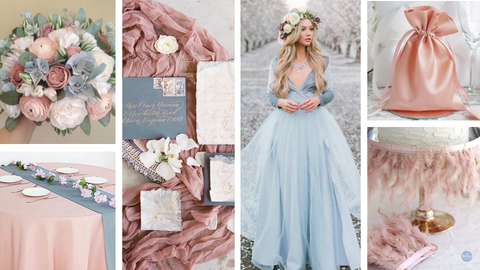 I hope that this article gets you inspired to start planning your wedding. I know it can feel overwhelming with all the choices you have to make. So again focus on the feel and the vibe first and the colors will come to you. If you're on pinterest and you're searching for boho weddings and you see rust coming up again and again and again and you're drawn to those images then rust is your color.
If you are more of a traditional style wedding and you see dusty blues and lavenders coming up and up and up in your inspiration board. Then those are the colors that you are attracted to and will work best with the style of wedding that you want. There's nothing wrong with having colors in mind when you start planning your wedding but it shouldn't be the guiding force to your design. 
That's all about my article, thanks for reading.